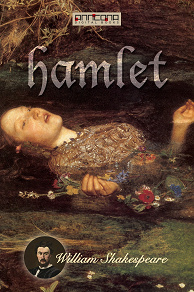 Isbn:
978-91-7605-169-6
Publisher:
Anncona Media
Category:
Plays
In english
Accessible since:
March 2014
---
Hamlet
The Tragedy of Hamlet, Prince of Denmark, often shortened to Hamlet, is a tragedy written by William Shakespeare at an uncertain date between 1599 and 1602.
Set in the Kingdom of Denmark, the play dramatizes the revenge Prince Hamlet is called to wreak upon his uncle, Claudius by the ghost of Hamlet's father, King Hamlet. Claudius had murdered his own brother and seized the throne, also marrying his deceased brother's widow.
Hamlet is Shakespeare's longest play, and is among the most powerful and influential tragedies in English literature, with a story capable of "seemingly endless retelling and adaptation by others." The play likely was one of Shakespeare's most popular works during his lifetime, and still ranks among his most performed, topping the performance list of the Royal Shakespeare Company and its predecessors in Stratford-upon-Avon since 1879. It has inspired many other writers – from Goethe and Dickens to Joyce and Murdoch – and has been described as "the world's most filmed story after Cinderella".
William Shakespeare (1564-1616) was an English poet, playwright and actor, widely regarded as the greatest writer in the English language and the world's pre-eminent dramatist. His extant works, including some collaborations, consist of about 38 plays, 154 sonnets, two long narrative poems, and a few other verses. His plays have been translated into every major living language and are performed more often than those of any other playwright.
Shakespeare was a respected poet and playwright in his own day, but his reputation did not rise to its present heights until the 19th century. His plays remain highly popular today and are constantly studied, performed, and reinterpreted in diverse cultural and political contexts throughout the world.
In 2016, celebrations will commence in the United Kingdom and across the world to honour The Bard's 400th anniversary.
---