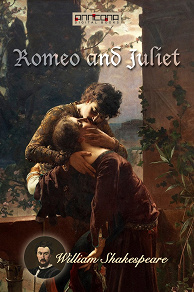 Isbn:
978-91-7605-171-9
Publisher:
Anncona Media
Category:
Plays
In english
Accessible since:
March 2014
---
Romeo and Juliet
Romeo and Juliet is a tragedy written by William Shakespeare early in his career about two young star-crossed lovers whose deaths ultimately reconcile their feuding families. It was among Shakespeare's most popular plays during his lifetime and, along with Hamlet, is one of his most frequently performed plays. Today, the title characters are regarded as archetypal young lovers.
Shakespeare's use of his poetic dramatic structure (especially effects such as switching between comedy and tragedy to heighten tension, his expansion of minor characters, and his use of sub-plots to embellish the story) has been praised as an early sign of his dramatic skill. The play ascribes different poetic forms to different characters, sometimes changing the form as the character develops. Romeo, for example, grows more adept at the sonnet over the course of the play.
Romeo and Juliet has been adapted numerous times for stage, film, musical and opera venues. In the 20th and into the 21st century, the play has been adapted in versions as diverse as George Cukor's 1935 film Romeo and Juliet, Franco Zeffirelli's 1968 version Romeo and Juliet, and Baz Luhrmann's 1996 MTV-inspired Romeo + Juliet.
William Shakespeare (1564-1616) was an English poet, playwright and actor, widely regarded as the greatest writer in the English language and the world's pre-eminent dramatist. His extant works, including some collaborations, consist of about 38 plays, 154 sonnets, two long narrative poems, and a few other verses. His plays have been translated into every major living language and are performed more often than those of any other playwright. 
Shakespeare was a respected poet and playwright in his own day, but his reputation did not rise to its present heights until the 19th century. His plays remain highly popular today and are constantly studied, performed, and reinterpreted in diverse cultural and political contexts throughout the world. 
In 2016, celebrations will commence in the United Kingdom and across the world to honour The Bard's 400th anniversary.
---