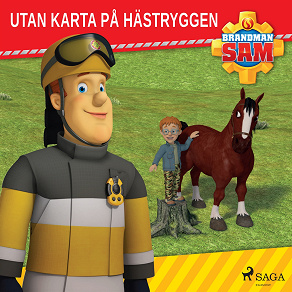 Isbn:
978-87-2680-785-1
Publisher:
Saga Egmont
Category:
3-6 years
Children's books
Accessible since:
March 2022
Narrator:
Simon Gregor Carlsson
Length: 11 minutes
---
Brandman Sam - Utan karta på hästryggen
Ture Evans lär barnen den viktiga konsten att läsa kartor. För att träna på detta delar han in barnen i två grupper som ska tävla om att komma först till Pontypandyudden. Det ena laget består av James och Sara och det andra av Malin och Herman. När Herman väljer att strunta i kartan råkar hans lag genast ut för stora bekymmer, så det dröjer inte länge innan brandman Sam och hans kollegor får komma till undsättning!

Brandman Sam är en brittisk animerad TV-serie som visades första gången 1987. Den skapades av de före detta brandmännen Dave Cingell och Dave Jones, och utvecklades sedan av konstnären och författaren Rob Lee. Brandman Sam har under åren blivit oerhört populär världen över och visas på trettiofem olika språk i 155 länder. Sam och hans modiga kollegor bor i den fiktiva småstaden Pontypandy i Wales, där de får uppleva alla möjliga slags äventyr och är alltid redo att hjälpa till.

© 2021 Prism Art & Design Limited. The Fireman Sam name and character are trademarks of Prism Art & Design Limited. Based on an original idea by D. Gingell, D. Jones and original characters created by R.M.J. Lee.

Följ med Brandman Sam på spännande äventyr tillsammans med kollegorna Elvis, Tom och Penny samt stationschef Steele, och så förstås alla andra invånare i Pontypandy. Sam hälsar glatt på alla han möter när han kommer farande i Jupiter, Merkurius, Venus eller något av de andra häftiga räddningsfordonen. När nåt går på tok, är Brandman Sam modig och klok!
Listen to sample
---