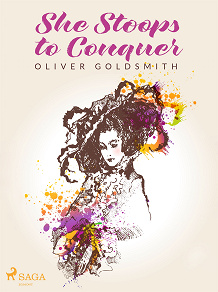 She Stoops to Conquer
If enduring popularity is a mark of quality, then 'She Stoops to Conquer' is among the greatest plays ever written; for the 1773 comedy has been performed almost without a break for 250 years.

It centres on the efforts of Mr Hardcastle to marry his daughter Kate to his friend's son, Marlow. When Marlow arrives at their house, he is brusque with Mr Hardcastle because he has been tricked into believing it is a hotel.

Mayhem and misunderstanding ensue as Marlow's companion Hastings plots with Hardcastle's niece to steal the family jewels. Then Marlow mistakes Kate for a serving maid and flirts with her. Is he a rude, licentious man? Or will Kate discover hidden depths to redeem him?

A groundbreaking and sharp satire about the clash between town and country, ´She Stoops to Conquer´ gently mocks the sentimental plays of its era and is ideal reading for fans of Oscar Wilde and George Bernard Shaw.




Oliver Goldsmith (1730-1774) was an Irish essayist, novelist, poet, and playwright.

His work includes the essay collection 'The Citizen of the World' (1762), the novel 'The Vicar of Wakefield' (1766), the plays 'The Good Natur'd Man' (1768) and 'She Stoops to Conquer' (1773), and the poetry collections 'Traveller, or, a Prospect of Society' (1764), 'An Elegy on the Death of a Mad Dog' (1766), and 'The Deserted Village: A Poem' (1770).
---